Disclosure: This post contains affiliate links.

Everyone out there with a "mummy tummy," raise your hand. It's OK–go for it. You're alone in your home, and no one can see you.
But I'll let you in on a little secret: My hand's raised, too.
At 7 weeks postpartum, I'm still losing weight, but my mummy tummy is not going away. And it won't go away on it's own. I'm going to have to do something about it.
You see, I have a diastasis. I'll be blogging more on diastasis in the near future because my second and third pregnancies have left me with one.
In short, a diastasis is a separation of the abdominal muscles that can only be repaired through either surgery (no, thanks!) or special exercises. Left alone, women with a diastasis will look eternally pregnant.
Read more about diastis here.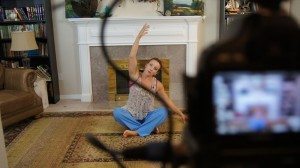 As we recently wrapped our in-depth natural pregnancy and birthing series as well as our short series on postpartum healing, I thought it would "fit" to find and review a good, online fitness studio geared toward moms.
I have good news:
I found a quality, affordable, family-friendly online fitness studio–for only $14.99/month!! If you have access to the internet via your laptop, smart phone, etc., you can have access to a growing library of top-notch workouts in the privacy of your own home via Fit2B Studio!
And I can wholeheartedly say I feel the Lord actually led me to find Fit2B Studio!
As I was searching for a quality and affordable program to check out for you all and myself, I "met" the Fit2B founder and fitness instructor Bethany Learn. With more than 14 years of fitness instructor experience and a mom herself, Bethany is passionate about designing workouts that are accessible to everyday people–even to those (like me!) who are really out of shape and find even the simplest exercises overwhelming.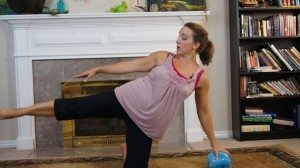 One of Bethany's specialties is in helping postpartum women heal diastasis.
This is where I feel God put me and Bethany in touch: I didn't even realize I had a diastasis until I stumbled across her program–while researching it for you, my readers! After reading her site, it occurred to me that the "hole" I had felt under my belly button for the past two years is a diastasis–and it worsened after my most recent pregnancy.
My midwife confirmed that I have a diastasis of 3 finger widths when I went in for my post-natal appointment.
Could you have a diastasis as well? Have you suffered from a "Mummy Tummy" that you just can't seem to lose ever since you had kids? Check out the way to check yourself for a diastasis here.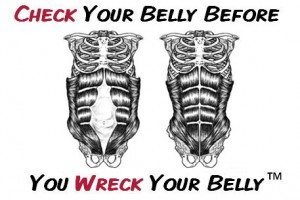 Whether you have a diastasis, are simply carrying around some extra weight after baby–or just want to get fit regardless of your life season–Fit2B has workouts that will work for you.
Over the course of the next year, I'll be giving you occasional updates on my progress with Fit2B, and in January, I'll be leading a 8-week "Get Fit, Mama!" challenge that I'll be inviting all of you to participate in!
Membership will give you unlimited access to every workout on the site as well as teleseminars, podcasts, discounts on upcoming retreats and training services, and more! You'll have the opportunity to schedule a consultation call with Bethany to chat about your goals and connect in real time!
For just $14.99/month, Fit2B is a fraction of the price of a gym membership. But Humbled Homemaker readers get an even better deal! Use code humbledhomemaker to get 30% off a 1-year membership!