Reading Time:
6
minutes
Do you desire for your kids to know God? Here are 10 practical tips for parents who want to teach their children about Jesus and build their faith from an early age.
by Jessica Smartt, Contributing Writer
Full disclosure: Right now, my weary, eight-month-pregnant self is plopped on my couch. It's 7:30pm, the kids are in bed, and boy, I am tired. Long-day, toddler-chasing, bone-tired.
I sit writing this post on introducing your child to Jesus…and as I reflect on my day, I can't help but feel a little uneasy…hypocritical even.
The thoughts start coming: Have I taught my children about Jesus today? Have I showed these little ones I love them? Have I taught them anything meaningful??
And suddenly, today's prayers seem extra-routine, the hugs too sparse, the whole drawn-out day a smattering of missed opportunities.
It's hard, isn't it, showing little ones Jesus? I love Jesus. I know in my heart of hearts He is all that matters. I long for my children to share this love – more than anything I long for this.
But yet I struggle – how do you introduce a child to Jesus, in a way that lasts, in a way their little hearts understand?
It was this angst that led me to write what's now my most popular post, How To Introduce Your Child To Jesus. People read it, and pinned it, and were still hungry. And so, a year later, I've released my first e-book – on this very same topic.
Because it's hard. Because the answers aren't clear. Because we moms are holy, but human. Inspired, but imperfect. Because sometimes…we need a little guidance.
I wrote this book not because I'm an expert, not because it comes easy to me, but maybe precisely because it does not. I've labored to come up with some answers, with some practical helps, with some very do-able things that all of us parents can do – even on little sleep, even when we're still learning.
Here are a few of these tips:
1. Let your kids see your Real Faith.
Real Faith is messy. It feels guilty after losing a temper. It worries when kids are sick. It wanders during the day, even forgetting to thank the Giver of all the gifts. So, don't feel pressure to be "perfect." Instead, be real with God – in front of your children. Are you worried? Tell them, and pray. Are you exhausted? Tell them, and pray.
2. Apologize often.
How powerful this is, and we forget it! I can still hear my mother's voice in my head: Mommies make mistakes, too. Do you forgive me? It's counter-intuitive, but seeing my parents' humble requests for forgiveness was a powerful statement to me of their character, and their love for me.
3. Find a good kids' Bible, and read it routinely.
We're so fortunate today to have access to many excellent children's Bibles. (Not all on the shelf are good, but many are. I review my favorites in my book.) God's word, above all, is the source of all truth. It brings hope and light to the darkness! Show them His word.
4. Spend time playing Legos, and combing Barbie's hair, and giving back scratches.
In other words: If you don't have a positive relationship with your children, your religious talk might be harder to accept.
5. Replace a some "secular" books, movies, songs, and toys with some high-quality Jesus-centered ones.
If our kids are not hearing about Jesus, they're probably not thinking about Him much, either. Through Jesus-centered songs, stories, and movies, we can draw their thoughts towards Him. Of course, many "Christian" kids' books on the market aren't all that great…but many are. I have a list of my 25 favorite resources in my e-book. Erin also has a great roundup of spiritual gift ideas for kids, as well as Resurrection-themed Easter basket ideas here and here.
6. Spend time on your own with the Lord.
Easier said than done, right? We all instinctively know we need to do this, but it can be hard! Here are a few tips:
Be gracious to yourself when your quiet times falter (because they will at some point if you are a tired and busy mommy), and don't let guilt keep you from coming to Jesus, even if it's been a month since you've cracked a Bible. Start now, where you are.
Be with Jesus during the day, while the kids are there. Pray out loud for your needs. Talk to Jesus when they're listening. Read a verse out loud. You can learn while they learn.
7. Talk about Jesus often with your kids.
When I started brainstorming for my book, I easily came up with over a dozen ways we can talk about Jesus with our kids – just in normal, everyday conversation. It's just a matter of being aware of those ways, and doing it!
8. Bring them to church, and let them see a little bit of real church.
I know this is a personal decision for many families: nursery vs. "big church." And boy, is it hard to have little ones in the pew with you! But we have seen positive rewards with letting our little ones be squirmy next to us. It's something I recommend, even if it's just for a small portion of the service. Kids watch us worshiping, see that God is holy, and important, and see that our faith is important to us.
9. Remind your children often, I love you so much, and God loves you, too.
This is something I learned from my very-wise mom, who often gets frustrated with complicated Sunday school curriculum. When they're so little, she says, they just need to know two things: God made everything, and God loves them. What a relief, huh? Give your little ones a hug, and tell them, God loves you so much, do you know that? This little phrase, with a hug…so powerful!
10. Tailor your teaching to your child's personality.
In my book, I outline seven common personalities in kids (the defiant child, the fearful child, the difficult child, and others). There are particular ways that each child needs the Gospel. There are no guarantees, unfortunately, that our children will follow Jesus. But it's helpful for me to think about their own little personalities, and brainstorm how each child needs Jesus.
Interested in learning more? My new e-book, How To Introduce Your Child To Jesus, has more practical tips, including:
My church survival kit for little ones (the specific items we bring, how we address misbehavior + more)
My Top 25 favorite Jesus-centered books, movies, and toys for kids
Everyday scenarios to talk about Jesus with your child
The seven common personalities in kids, and how to teach each type
A list of my favorite devotionals for wearied moms
YOUR questions answered – common questions about teaching a little one about God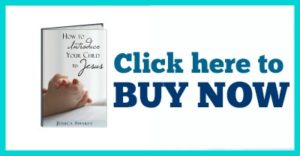 What's your biggest challenge in teaching little ones you love about Jesus?
Jessica Smartt is a former middle-school teacher who lives in beautiful North Carolina. You can find her blogging at

www.smarttereachday.com

where she enjoys poking fun at the everyday challenges of motherhood, sharing delicious allergy-free recipes, and rejoicing that God still loves her no matter what phobia she has recently developed. She is blessed beyond belief with two Smartt little boys and a husband who can fix anything. You can follow her on

Facebook

,

Pinterest

, or

her blog

.