Reading Time:
9
minutes
How should you talk with your kids about sex? It's a tough question, but it's never too early to find out! It's an ongoing conversation that can be done in an age-appropriate manner as they mature.
By Will Odom, Contributing Writer (and Erin's husband!)
Talking to your kids about sex and their sexuality can be complicated or simple depending on multiple factors.
Thanks to TV, movies, and the Internet, kids today seem to learn about dating, sex, and other such topics earlier and earlier, and often we, as parents, are not prepared for some questions they may ask.
It is natural for kids to explore their sexuality and ask questions about development, so parents should be prepared to handle those questions with age-appropriate discussions.
Parents should be the first line of information when it comes to discussing sex and sexuality with children, but too often many are leaving it up to other avenues.
A recent study published in the June 2016 Journal of Adolescent Health says that 22% of females and 30% of males did not talk with their parents about any of six different topics, including saying "no" to sex and STDS.

In another study conducted by Havard in 2014 with 141 families, more than 40 percent of parents never get around to talk to their children about sex until after their kids are sexually active.

However, a poll taken by Let's Talk: Are Parents Tackling Crucial Conversations about Sex? suggests that 82 percent of parents are talking to their children about topics related to sex and sexuality, indicating that more parents are aware of the need to discuss this topic with their children.

In the same poll, 94 percent of parents are confident about their ability to influence whether or not their child has sex. However, only 57 percent of parents feel somewhat comfortable or very uncomfortable talking with their kids about it.

Another study found that mother-daughter discussions are more likely to include information on sexual health issues than are mother-son discussions.

Father-daughter discussions about sexuality, while somewhat infrequent, still outnumber father-son discussions. As a result, young boys are receiving less guidance and support from their parents to develop the skills to make healthy decisions about sex.
Many kids learn about their bodies from everyone but their parents — the playground, the locker room, or the hallways.
This was my own experience as well. My parents never once discussed my body or sex with me, so everything I learned came from biology class or school-yard talk.
As a result, I was not prepared for certain situations, and that included being molested by a family friend.
I don't want that for my kids.
As kids get older, they will find it more awkward to discuss sex with their parents unless we create an open environment and are approachable.
In a 2002 Seventeen Magazine survey, teens indicated various reasons about why they may not talk to parents about sexual health issues. That survey maybe over a decade old, but I don't think much as changed.
Eight-three percent of teens worried about their parents' reaction.
Eighty percent of teens worried that parents will think they have had sex or are going to have sex.
Seventy-eight percent named embarrassment as a big reason.
Seventy-seven percent of teens (83 percent of females; 71 percent of males) said they didn't know how to bring the subject up.
So how can you talk with your kids about sex?
Create an open environment.
While there are definitely specific times that parents should sit down with their kids to discuss certain topics, parents should strive to create an atmosphere in their home where children feel comfortable.
Give them an open door to communicate with you.
As a dad of 3 girls, I get a lot of questions about why daddy stands up to use the bathroom or why daddy is different than mommy, and I welcome those questions because I would rather them ask me and learn from me than from someone else.
The "Sex Talk" shouldn't just happen one time but should be an open, ongoing conversation that occurs over several years at different stages.
This should also include conversations about their sexuality and how their bodies will develop as they mature.
As kids start to explore or ask questions at an early age, don't just shut them down. Don't lie or water down answers. Be honest and give them what they need in way they can understand it.
Allow them to ask their questions and answer with age-appropriate information. They don't need to know all the details at age 3, but simple answers can satisfy curious minds.
As they mature, they can handle more complex answers that involve more details.
An 8-year-old child is capable of understanding a great deal more than the aforementioned 3 year old.
At times we can be proactive and explains things before they ask questions while other times it's more appropriate to give them the opportunity to ask questions and talk with your kids about sex.
I know some parents who live on a farm that use those lessons to teach their kids about growth, development, and procreation.
Know what your kids are doing.
With technology, kids are exposed to a great deal more than their parents had to deal with at their ages.
Media, computers, and phones give them access to a wealth of information, some good and some bad.
It is important for parents to know what their kids are watching and how they are spending their time.
Create clear boundaries for your kids, and allow them to ask questions if they see or hear something they don't understand.
Teach them to use their technology responsibly but also limit it when appropriate.
In addition to talking about safe touch, Internet safety and screen time are also big concerns for many parents. For years, we have been using the
Circle
to filter our home Internet as well as control time limits and monitor usage, including on some devices when not attached to our home network. It is a great tool that has worked well for our family, and one that we highly recommend to anyone who asks.
Check it out here for yourself and discover all the great features and how it an help your family as one tool in your tool belt.
They may not always understand it, but it is my job as a parent to protect them while teaching them to grow in their independence.
In addition, parents should know who their kids are hanging around.
Families have different values and set their own standards. If something doesn't feel right to you about a family or friend, then talk to your child and create distance between the two.
These conversations can also include lessons on appropriate touch and what to do in situations where the child feels uncomfortable or is approached in an inappropriate manner.
From my own experience, this is an important step in protecting and building trust with your kids when you talk with your kids about sex.
Find age-appropriate resources.
It is important as a parent to equip yourself for these conversations and to introduce your children to these topics on a level they can understand.
You can give them information while still protecting their innocence.
Giving them the proper information at the proper time and age can actually protect their innocence in our overly sexual culture that screams at them from all sides.
It equips them to know how God designed them when they are faced with the warped view of sexuality that perpetuates our society.
Often our kids ask us questions that we are not prepared to answer, so finding resources to help is a great step. This can come in the form of books, videos, courses, counselors, etc.
Here are some resources you can use when you talk to your kids about sex.
Books:
Ecourses:
Beth from Fit2B has put together a course specifically for talking to girls about puberty.
She delves into the physical changes as well as hormonal and emotional while offering practical advice and tips. This course is purely about girls understanding their bodies, taking care of themselves, and being confident in their ability to do great things in this world for good!
Luke and Trisha from Intoxicated on Life have created one of the best resources that I have seen on having these conversations with your kids.
They offer a free 3-part mini training ecourse on talking with your kids.
It covers 3 lessons:
"The Talk" – why you need to start now.
What does biblically-based sex-ed look like?
How to break the ice and start talking today!
You can also get the full e-course of Having the Talk by visiting Intoxicated on Life.
It is designed with practical steps and tips to give you useful information that you can put into practice immediately.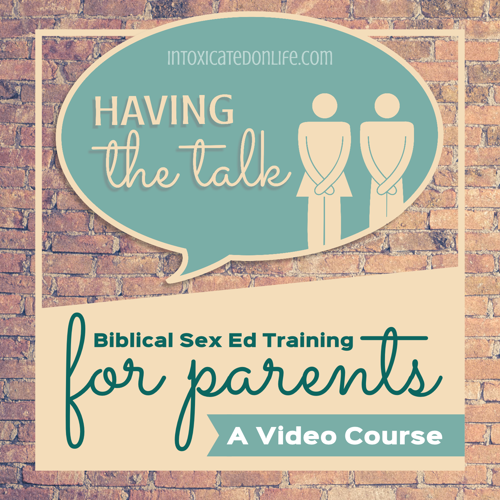 Do you find talking to your daughter about sex, puberty, and boys to be one of the scariest parts of parenting.
Sheila as created a faith-based course that can help YOU have those conversations with your daughter–without it being so scary.
Most parents feel woefully unprepared to talk to their daughters about sex. And because we feel so scared, too often we make it uncomfortable for our daughters, too.
But what if you had HELP starting that conversation? What if your daughter could hear about the hard stuff from "funny big sisters", and then you could continue the conversation in a much more stress-free way?
This video based course features two young people teaching your daughter about everything they need to know about sex, puberty and growing up–all from a biblical perspective.
And then each unit has discussion questions, checklists, and mother-daughter activities so that you can keep that conversation going!
---
Some basic suggestions on what to discuss with your kids at different ages?*
Age 1- 3 = Using the proper words for their genitalia and understanding differences between male and female.
Age 3-5 = Understanding that a man and women are needed to make a baby and that the baby grows inside mommy's tummy in a space called her uterus. Don't need to know how the baby was made but may have some questions about the baby. Begin teaching them about privacy as well. Basic discussion of your family values.
Ages 5-8 = Mommy has eggs inside her, and Daddy has sperm (kind of like a tadpole). The sperm and egg combine to make a baby. Some kids maybe ready for a basic understanding of intercourse. Continue to discuss privacy, and some basic conversations about puberty can begin at the older age range. Continued discussion of family values.
Age 8-11 = A basic understanding of intercourse and your family beliefs on marriage, sex, children, etc. At this point they should understand that a man and women connect (kind of like a puzzle) in order for the sperm to reach the egg. Continued discussions on puberty and body development.
Age 11-13 = At this point, kids should definitely know what to expect for puberty. Kids are beginning to construct their own ideas and values, so continue to discuss any of the previous areas, including reinforcement of family values and healthy views of body image, sexuality, etc
* Much of these discussions will depend on your family values and your child.
How do you talk with your kids about sex and sexuality? What tips do you have?